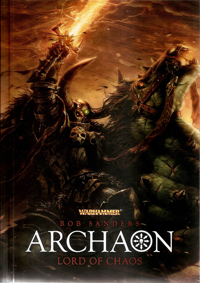 Rob Sanders, Archaon: Lord of Chaos (Black Library)
Archaon – the former templar of Sigmar now dedicated to the Ruinous Powers – continues his quest to claim the six great treasures of Chaos and bring death to the world as the Everchosen of the gods.  As he travels the world – from the southern Chaos Wastes to the verdant lands of Bretonnia – Archaon faces unimaginable perils and devastating betrayals.  And all the while, Be'lakor, the first daemon prince, plots and awaits his chance to destroy the would-be Everchosen and claim his mantle as Lord of Chaos and harbinger of the End Times.
Rob Sanders is the author of The Serpent Beneath, a novella that appeared in the New York Times bestselling Horus Heresyanthology The Primarchs.  His other Black Library credits include the Warhammer 40,000 books Redemption Corps, Atlas Infernal, Legion of the Damned and various shorter tales for the Horus Heresy.  He lives in Lincoln.