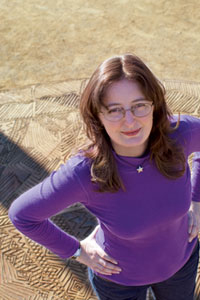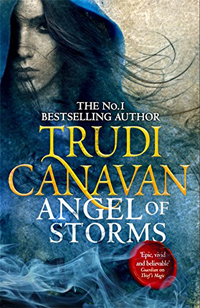 Trudi Canavan, Angel of Storms
Millennium's Rule, Book 2  (Orbit)
Tyen trains students in the ways of magic, but his teaching may soon be outlawed.  Rumour has it that the formidable ruler of all worlds, long believed to be dead, is back and is harshly enforcing his old laws – including the one forbidding schools of magic.  As teachers and pupils flee, Tyen is left with no home and no purpose . . . except to fulfil the promise he made to Vella, the sorcerer imprisoned in a book.  Tyen must decide what he is willing to do to free her.
Elsewhere, Rielle's peaceful new life as a tapestry weaver has been shattered by a local war.  As defeat looms, the powerful Angel of Storms appears and invites Rielle to join the artists of his heavenly realm.  But what will he require in return for this extraordinary offer?
Trudi Canavan was born in Kew, Melbourne and grew up in Ferntree Gully, a suburb at the foothills of the Dandenongs.In 1999 she won the Aurealis Award for Best Fantasy Short Story with "Whispers of the Mist Children". In the same year she was granted a writers residency at Varuna Writers' Centre in Katoomba, New South Wales.
In November 2001, The Magicians' Guild was published in Australia. The second book of the trilogy, The Novice, was published in June 2002 and was nominated for the Aurealis Award for Best Fantasy Novel. The third book,The High Lord, was released in January 2003 and was nominated for the Best Novel Ditmar category. All three books entered Australian top ten SF bestseller list  The Black Magician Trilogy reached the international market in 2004. The trilogy is now rated by Nielsen BookScan as the most successful debut fantasy series of the last 10 years.
Trudi's second trilogy, Age of the Five, has also enjoyed bestselling success. Priestess of the White reached No.3 in the Sunday Times hardback fiction bestseller list, staying in the top ten for six weeks.
In 2013 BBC Books contacted her to see if she would like to write a Doctor Who enovella, to which she said 'YES!'. Her story, "Salt of the Earth" was published in March 2014.