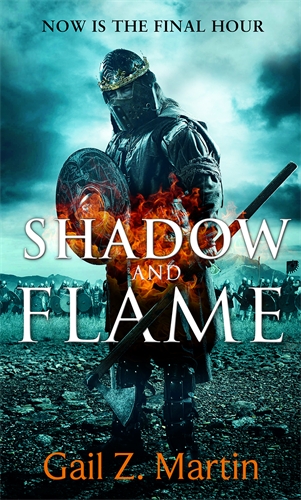 Gail Z Martin, Shadow and Flame
Ascendant Kingdoms Saga #4 (Orbit)
Blaine McFadden and his allies have brought magic back under mortal command and begun to restore order to the beleaguered kingdom of Donderath. Now, new perils and old enemies gather for a final reckoning. Foreign invaders, a legendary dark mage and vengeful immortals fight Blaine's battered forces for control of the continent, and Blaine's weary army is the only thing standing between a kingdom struggling to rise from the ashes and a descent into fury and darkness.
About Gail Z Martin:

Gail Z. Martin is the author of the epic fantasy Reign of Ash (Orbit Books 2014) and Deadly Curiosities, an urban fantasy novel (July 2014 Solaris Books), set in Charleston, SC. She is also author of Ice Forged in The Ascendant Kingdoms Saga, War of Shadows (Orbit Books, 2015), and Iron and Blood, a Steampunk novel (2015, Solaris Books) which will be co-authored with her husband, Larry N. Martin.  She is the author of The Chronicles of The Necromancer series (The Summoner, The Blood King, Dark Haven & Dark Lady's Chosen) from Solaris Books and The Fallen Kings Cycle (The Sworn  and The Dread) from Orbit Books. She writes two series of ebook short stories: The JonmarcVahanian Adventures and the Deadly Curiosities Adventures.
Gail's work has also appeared in many anthologies: Clockwork Universe Steampunk vs. Aliens, Athena's Daughters, Dreams of Steel 5, The Big Bad 2, Dance Like a Monkey, plus an illustrated story in Icarus: A Graphic Novel, Heroes (stretch goal author) the British Fantasy Society's Unexpected Journeys and With Great Power, a superhero anthology. Other US/UK anthologies include Magic (Solaris), The Bitten Word, Rum &Runestones, Spells & Swashbucklers, and The Mammoth Book of Ghost Stories by Women.