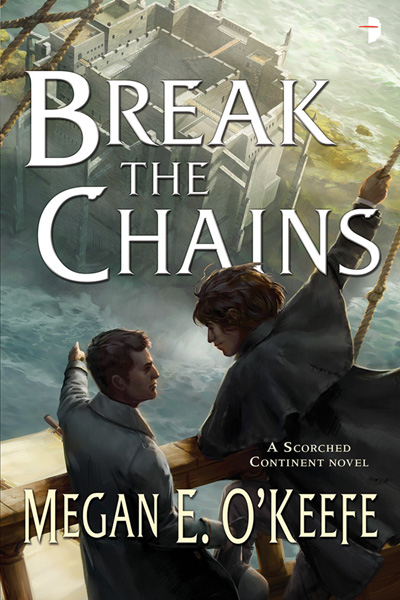 Megan E. O'Keefe, Break the Chains
The Scorched Continent #2 (Angry Robot)
As the city that produces the most selium – that precious gas that elevates airships and powers strange magic – Hond Steading is a jewel worth stealing. To shore up the city's defenses, Detan promises his aunt that he'll recover Nouli, the infamous engineer who built the century gates that protect the imperial capital of Valathea. But Nouli is imprisoned on the Remnant Isles, an impervious island prison run by the empire, and it's Detan's fault. Detan doesn't dare approach Nouli himself, so his companions volunteer to get themselves locked up to make contact with Nouli and convince him to help. Now Detan has to break them all out of prison, and he's going to need the help of a half-mad doppel to do it.
About Megan E. O'Keefe:
Megan E. O'Keefe was raised amongst journalists, and as soon as she was able joined them by crafting a newsletter which chronicled the daily adventures of the local cat population. She has worked in both arts management and graphic design, and spends her free time tinkering with anything she can get her hands on.
Megan lives in the Bay Area of California and makes soap for a living. It's only a little like Fight Club. She is a first place winner in the Writers of the Future competition and is represented by JABberwocky Literary Agency.