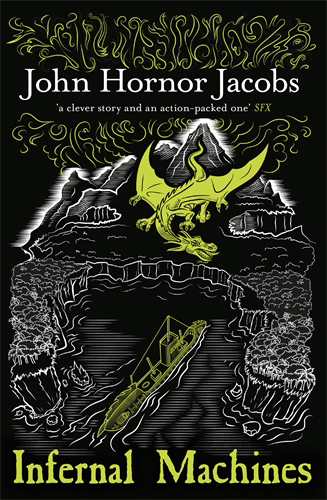 Patrick Knowles for Infernal Machines by John Hornor Jacobs (Gollancz)
Patrick Knowles has over twenty five years commercial experience as a lettering artist, book cover designer and illustrator, working in a wide variety of media including the traditional to digital, photo-real 3D modelling and photography. He works both within book publishing and general design/advertising.
Clients include Penguin, HarperCollins, Orion Group, Little Brown Group, Random House, Hachette Childrens, Puffin, Quercus, and a number of independent publishers. Clients outside of book publishing include Specsavers, Tate+Lyle, Chivas Whisky and a variety of magazine publishers.
Other work includes calligraphy for the wedding of Prince William and Kate Middleton and for the Christening of their son Prince George, and running lettering and calligraphy courses – even including a series at Wandsworth prison, though not as an inmate…