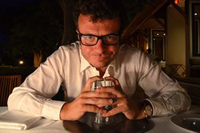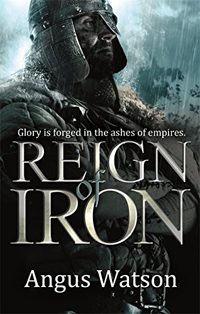 Angus Watson, Reign of Iron
The Iron Age trilogy, Book 3  (Orbit)
Invaders have massacred and pillaged their way through neighbouring kingdoms and loom on the far side of the sea, ready to descend upon the fortress of Maidun.  With them are an unstoppable legion of men twisted by dark magic. Somehow Queen Lowa's army must repel the invasion, although their best general is dead and their young druid powerless. She faces impossible odds, but when the alternative is death or slavery, a warrior queen will do whatever it takes to save her people.
In his twenties, Angus Watson's jobs ranged from forklift truck driver to investment banker. He spent his thirties on various assignments as a freelance writer, such as searching for Bigfoot in the USA for The Telegraph, diving on the scuppered German fleet at Scapa Flow for the Financial Times and swimming with sea lions off the Galapagos Islands for The Times.
Now entering his forties, Angus lives in London with his wife Nicola and baby son Charlie. As a fan of both historical fiction and epic fantasy, he came up with the idea of writing a fantasy set in the Iron Age when exploring British hillforts for The Telegraph, and developed the story while walking Britain's ancient paths for further articles.
Angus was shortlisted for the Morningstar Award in 2015.