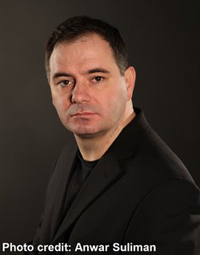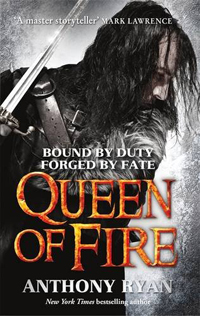 Anthony Ryan, Queen of Fire
Raven's Shadow, Book 3  (Orbit)
Empires will fall.
Queen Lyrna has survived the bloody siege of Alltor. Now she must rally her troops and take back the capital from the Volarian invaders. But driving her hated enemy out of the realm will not satisfy her lust for vengeance – she wants to pursue them across the ocean and burn their empire to ashes. To do so, she must place her faith in the Seventh Order: men and women who wield terrible powers, born of the Dark itself.
Vaelin Al Sorna would sacrifice his life for his queen – and may yet have to. Only by unmasking the Volarians' mysterious Ally can the tide of war be turned. To this end, Vaelin must travel deep into the icebound north, in search of a man who cannot die – and he must do it without the aid of his blood song, which has fallen ominously silent . . .
Anthony Ryan is the New York Times bestselling author of the Raven's Shadow epic fantasy novels as well as the Slab City Blues science fiction series. He was born in Scotland in 1970 but spent much of his adult life living and working in London. After a long career in the British Civil Service he took up writing full time after the success of his first novel,Blood Song, Book One of the Raven's Shadow trilogy. He has a degree in history, and his interests include art, science and the unending quest for the perfect pint of real ale.