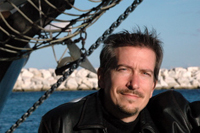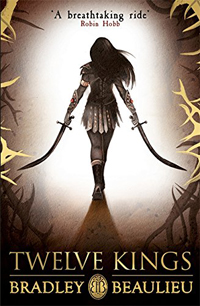 Bradley Beaulieu, Twelve Kings
The Song of the Shattered Sands, Book 1  (Gollancz)
In the cramped west end of Sharakhai, the Amber Jewel of the Desert, Çeda fights in the pits to scrape a living. She, like so many in the city, pray for the downfall of the cruel, immortal Kings of Sharakhai, but she's never been able to do anything about it. This all changes when she goes out on the night of Beht Zha'ir, the holy night when all are forbidden from walking the streets. It's the night that the asirim, the powerful yet wretched creatures that protect the Kings from all who would stand against them, wander the city and take tribute. It is then that one of the asirim, a pitiful creature who wears a golden crown, stops Çeda and whispers long forgotten words into her ear. Çeda has heard those words before, in a book left to her by her mother, and it is through that one peculiar link that she begins to find hidden riddles left by her mother.
As Çeda begins to unlock the mysteries of that fateful night, she realizes that the very origin of the asirim and the dark bargain the Kings made with the gods of the desert to secure them may be the very key she needs to throw off the iron grip the Kings have had over Sharakhai. And yet the Kings are no fools-they've ruled the Shangazi for four hundred years for good reason, and they have not been idle. As Çeda digs into their past, and the Kings come closer and closer to unmasking her, Çeda must decide if she's ready to face them once and for all.
Bradley P. Beaulieu began writing his first fantasy novel in college, but in the way of these things, it was set aside as life intervened. As time went on, though, Brad realized that his love of writing and telling tales wasn't going to just slink quietly into the night. The drive to write came back full force in the early 2000s, at which point Brad dedicated himself to the craft, writing several novels and learning under the guidance of writers like Nancy Kress, Joe Haldeman, Tim Powers, Holly Black, Michael Swanwick, Kij Johnson, and many more.
In addition to being an L. Ron Hubbard Writers of the Future Award winner, Brad's stories have appeared in various other publications, including Realms of Fantasy magazine, Orson Scott Card's Intergalactic Medicine Show, Writers of the Future 20, and several other anthologies.