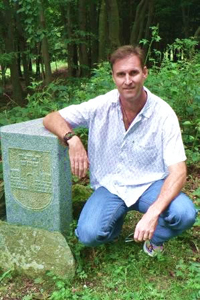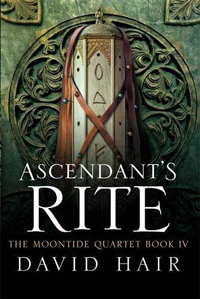 David Hair, Ascendant's Rite
The Moontide Quartet, Book 4  (Jo Fletcher Books)
The Moontide is ending.  As the seas rise to engulf the Leviathan Bridge and once again separate East and West, Emperor Constant unleashes the final phase of his earth-shattering plan to conquer the known world.
The Lost Legions are trapped between two massive armies, both intent on their annihilation, because they have discovered secrets that could tear the empire apart.  Ramon and Seth are going to need all of their cunning, tenacity and bravery if they are to get their men across the Bridge to safety.
In Javon, Cera Nesti, once again Queen-Regent for her brother Timori, is leading the Javonesi rebellion against the overwhelming might of the Rondian Empire.  She needs the skill and courage of her friends if the kingdom is to survive – but first, she must regain their trust.
And most crucially, the Seytale of Corineus – the key to becoming an all-powerful Ascendant mage – has fallen into deadly hands: the Seeress Huriya and the Inquisitor Malevorn.  Alaron and Ramita must prevent the rise of a terrifying new power, but to do so they need the aid of the 'Queen of Evil' and a small group of Zain monks who have retreated from the world and taken a vow of peace.
The time has come for the Rite of Ascendancy to be performed, and for new powers to rise – to save or damn Urte for all time.
David Hair is a New Zealander who lives in Auckland with his wife, Kerry, and children Brendan and Melissa.  Most of his working life has been spent in financial services, but he always had an ambition to write.  His first published novel,The Bone Tiki, was a young adult fantasy that won Best First Book at the 2010 NZ Post Children's Book Awards and generated four sequels known overall as the Aotearoa series.  A subsequent YA series, The Return of Ravana, consisting of four volumes, is set in India.  He moved to adult fiction with the Moontide series, and a four book sequel, The Sunsurge Quartet is in the works.
David likes to ground his work in mythology and history, both of which he studied at university.  Travel is an important part of writing for him, and he has  lived in India and the UK, as well as travelling in South East Asia, Europe and America.  Away from writing, he loves football ("proper round-ball 11-a-side footy") especially "my poor beleaguered" Leeds United, plus movies, wine, travel, obscure music, and hanging out with Kerry and the kids.  He reads extensively, mostly fantasy and history.