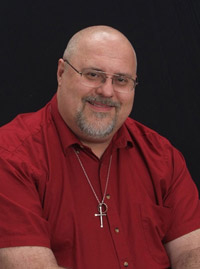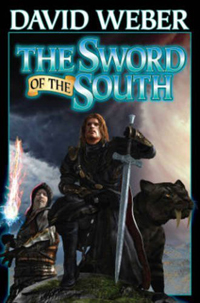 David Weber, The Sword of the South  (Baen)
It's always good to know who you are, but sometimes that's a wee bit difficult.
Kenhodan has no last name, because he has no past … or not one that he remembers, anyway.  What he does have are a lot of scars and a lot of skills, some exhilarating and some terrifying, and a purpose.  Now if he only knew where he'd gotten them and what that purpose was …
Wencit of Rum, the most powerful wizard in the world, knows the answers to Kenhodan's questions, but he can't or won't share them with him.  Except to inform him that he's a critical part of Wencit's millennium-long battle to protect Norfressa from conquest by dark sorcery.
Bahzell Bahnakson, champion of Tomanak, doesn't know those answers and the War God isn't sharing them with him.  Except to inform Bahzell that the final confrontation with the Dark Lords of fallen Kontovar is about to begin, and that somehow Kenhodan is one of the keys to its final outcome.
It's not easy to face the future when you can't remember your own past, but if saving an entire world from evil sorcerers, demons, devils and dark gods was easy, anyone could do it.
While David Weber is best known for his spirited, modern-minded space operas, he is also the creator of the Oath of Swords fantasy series and the Dahak science fiction saga.  Weber has also engaged is a steady stream of bestselling collaborations, including his Starfire series with Steve White, which produced theNew York Times bestseller The Shiva Option among others.  Weber's collaboration with alternate history master Eric Flint led to the bestselling 1634: The Baltic War, and his planetary adventure novels with John Ringo includes the blockbusters March to the Stars and We Few.
David Weber makes his home in South Carolina with his wife and children.