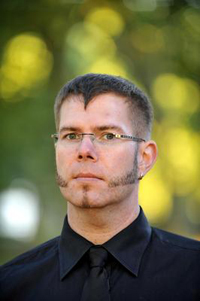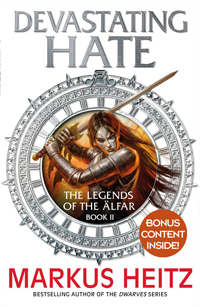 Markus Heitz, Devastating Hate
The Legends of the Alfar, Book 2  (Jo Fletcher Books)
(Translated by Sheelagh Alabaster)
They are the enemies of the dwarves and control the darkest magic, but even the power of the alfar has its limits.  To save their own people, they must enter into an unwinnable war.
Sinthoras and Caphalor, two very different alfar, watch as their plans come to fruition: the hidden land – the home of the dwarves – has fallen to their army of trolls, barbarians and alfar, and now the lands of the hated elves are within their grasp.
But the alliance is beginning to crumble as greed triumphs over obedience.  And Sinthoras and Caphalor face another threat: an enemy from the empire of the alfar, thought to be defeated, has resurfaced, and while their best warriors fight in the hidden land, the alfar homeland lies almost defenceless …
Markus Heitz was born in 1971.  He studied History, and German Language and Literature.  His debut novel, Schatten uber Ulldart (the first in a series of epic fantasy novels), won the Deutscher Phantastik Preis (German Fantasy Award) in 2003.  His bestselling Dwarves trilogy has earned him a place among Germany's most successful fantasy authors.  He currently lives in Zweibrucken, Germany.
Markus was shortlisted for the Legend Award in 2011.