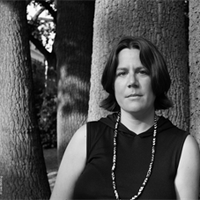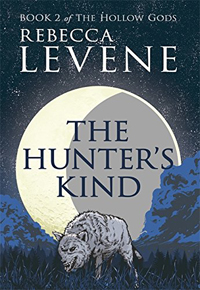 Rebecca Levene, The Hunter's Kind
Book 2 of The Hollow Gods  (Hodder & Stoughton)
Born in tragedy and raised in poverty, Krishanjit never aspired to be anything greater than a humble goatherd.
But Krish has learned that he's the son of the king of Ashanesland – and the moon god reborn.  Now, with the aid of his allies, Krish is determined to fight his murderous father and seize control of Ashanesland.  But drunken warrior Dae Hyo is dangerously unreliable, young Eric is desperate to save his own unborn child, and mage Olufemi is hiding a lethal secret.
If Krish is to have any hope of taking his throne, he must travel to the forbidden Mirror Town and unlock the secrets of its powerful magic.  But the price of his victory may be much greater than the consequences of his defeat.
For, deep in the distant Moon Forest there lives a girl named Cwen, a disciple of the god known only as the Hunter.  She believes that Krish represents all that is evil in the world.  And she has made it her life's mission to seek out and destroy Krish and all who fight by his side.
Rebecca Levene is an experienced author of fiction and non-fiction, and has written scripts for TV and video games, including one voiced by Mickey Rourke.  She began her career writing media tie-ins for properties ranging from Dr Who to the Final Destination movies.  More recently, she has published two original supernatural thrillers and a short story which The Guardian said 'combines thwarted ambition and a gallery of fascinating secondary characters to wonderfully readable effect.'  In addition to her writing, she is also working on the storyline and scripts for the hit app Zombies, Run!