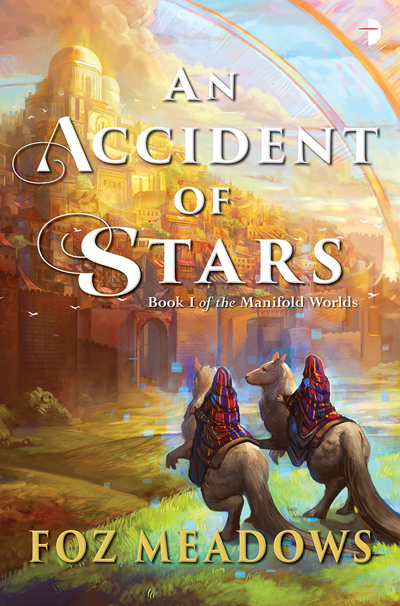 Foz Meadows, An Accident of Stars
Manifold Worlds #1 (Angry Robot)
When Saffron Coulter stumbles through a hole in reality, she finds herself trapped in Kena, a magical realm on the brink of civil war.
There, her fate becomes intertwined with that of three very different women: Zech, the fast-thinking acolyte of a cunning, powerful exile; Viya, the spoiled, runaway consort of the empire-building ruler, Vex Leoden; and Gwen, an Earth-born worldwalker whose greatest regret is putting Leoden on the throne. But Leoden has allies, too, chief among them the Vex'MaraKadeja, a dangerous ex-priestess who shares his dreams of conquest.
Pursued by Leoden and aided by the Shavaktiin, a secretive order of storytellers and mystics, the rebels flee to Veksh, a neighboring matriarchy ruled by the fearsome Council of Queens. Saffron is out of her world and out of her depth, but the further she travels, the more she finds herself bound to her friends with ties of blood and magic.
Can one girl – an accidental worldwalker – really be the key to saving Kena? Or will she just die trying?
About Foz Meadows:
Foz Meadows is an Australian fantasy author, reviewer, poet and blogger. She has most recently published An Accident of Stars, an epic portal fantasy from Angry Robot, and Coral Bones, a Shakespearean novella; she has also written two YA urban fantasy novels, Solace and Grief and The Key to Starveldt. A full list of her publications can be found here. Foz is a reviewer for Strange Horizons and a contributing writer for The Huffington Post and Black Gate; her essays have appeared in various venues online, including The Mary Sue, A Dribble Of Ink and The Book Smugglers. In 2014 she was nominated for a Hugo Award for Best Fan Writer; she has also been nominated for the Ditmar for Best Fan Writer in 2014 and 2016. Foz likes cheese, geekery, writing, webcomics and general weirdness. Dislikes include Hollywood rom-coms, liquorice and waking up.
Foz currently lives in Brisbane with not enough books, her very own philosopher and a toddler. Surprisingly, this is a good thing.