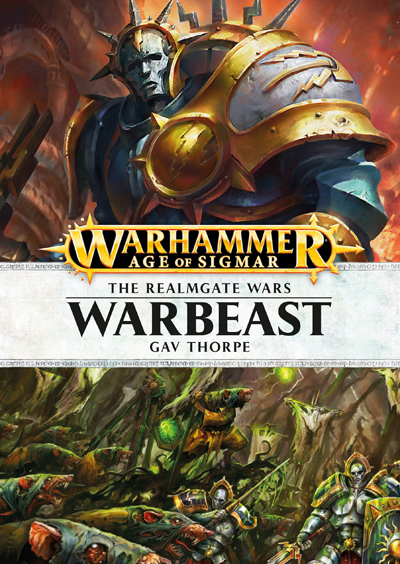 Gav Thorpe, Warbeast
The Realmgate Wars #6 (Black Library)
The once noble tribes of Ursungorod in Ghur have almost entirely fallen to Chaos, and an infestation of Clans Pestilensskaven has amassed in the caverns beneath the snowy tundra. There, PoxmasterFelk is on the brink of opening a vital realmgate – but Sigmar intends to seize this portal for himself. ArkasWarbeast, Lord-Celestant of the Celestial Vindicators, was once a mortal ruler of these lands. Now, with the aid of the Knights Excelsior, he has returned to free his kingdom from the clutches of Chaos and claim the realmgate in his God-King's name. But first he must vanquish the ghosts of his past and overcome his own conflicted nature, in order to unleash the beast within.
About Gav Thorpe:

Gav Thorpe has a long history with the Warhammer and Warhammer 40,000 universes, and has written many novels for the same. He is a New York Times best-selling author with the novella The Lion. His epic swords-and-sandals fantasy Empire of the Blood is available from Angry Robot. Gav has worked on numerous tabletop and video games as designer, writer and world creation consultant. He has also delivered writing workshops and appeared on numerous discussion panels at literature and genre events. He lives near Nottingham with his partner Kez and son Sammy.