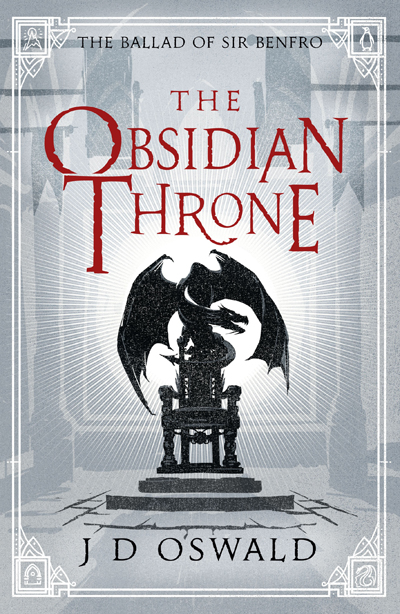 J. D. Oswald, The Obsidian Throne
The Ballad of Sir Benfro #5 (Penguin)
There is no war in the northlands, just annihilation. Either the dragons will destroy this world or Queen Beulah will raze it to the ground.
Below the city is a secret the House of Balwen have kept for millennia, a treasure beyond imagination. None but a direct descendent of Balwen himself can open the escape routes from this cavern. To do so, Princess Iolwen will need to claim the Obsidian Throne.
Meanwhile Errol and Sir Benfro find their destinies drawing closer together, with the future of all life in the Twin Kingdoms resting on these two unlikely heroes. There will be self-sacrifice and terrible betrayals. And the lives of boy and dragon will be forever changed.
About J. D. Oswald:

"I'm the author of the Detective Inspector McLean series of crime novels. Currently there are five available, Natural Causes, The Book of Souls, The Hangman's Song, Dead Men's Bones and Prayer for the Dead. The sixth in the series, The Damage Done, will be out in Hardback and eBook on February 25th 2016.
I've also written an epic fantasy series, The Ballad of Sir Benfro. The first four of these are available from all good retailers: Dreamwalker, The Rose Cord, The Golden Cage and The Broken World.
In addition to these I've written comic scripts, short stories and endless waffling blog posts. You can find most of my musings over at sirbenfro.blogspot.com, whilst my unpublished stories are all to be found at devildog.co.uk.
In my spare time I run a 350 acre livestock farm in North East Fife, where I raise pedigree Highland Cattle and New Zealand Romney Sheep. You can find out more at fliskmillan.com (although at the moment it's all just pictures.)"