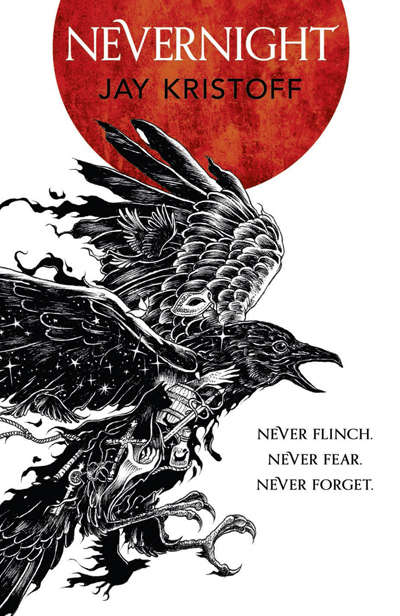 Jay Kristoff, Nevernight
The Nevernight Chronicle #1 (Harper Voyager)
Destined to destroy empires, Mia Corvere is only ten years old when she is given her first lesson in death.
Six years later, the child raised in shadows takes her first steps towards keeping the promise she made on the day she lost everything.
But the chance to strike against such powerful enemies will be fleeting, so if she is to have her revenge, Mia must become a weapon without equal. She must prove herself against the deadliest of friends and enemies, and survive the tutelage of murderers, liars and daemons at the heart of a murder cult.
The Red Church is no ordinary school, but Mia is no ordinary student.
The shadows love her.
And they drink her fear.
About Jay Kristoff:

Jay Kristoff is the New York Times and internationally bestselling author of THE LOTUS WAR, THE ILLUMINAE FILES and THE NEVERNIGHT CHRONICLE. He is the winner of two Aurealis Awards, an ABIA, nominee for the David Gemmell Morningstar and Legend awards, named multiple times in the Kirkus and Amazon Best Teen Books list and published in over twenty-five countries, most of which he has never visited. He is as surprised about all of this as you are. He is 6'7 and has approximately 13030 days to live. He abides in Melbourne with his secret agent kung-fu assassin wife, and the world's laziest Jack Russell.
He does not believe in happy endings.