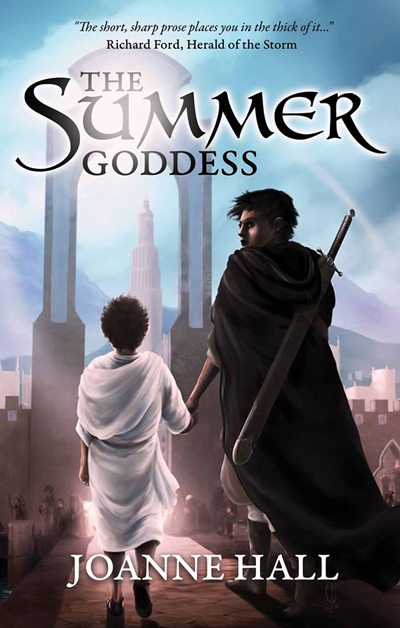 Joanne Hall, The Summer Goddess
(Kristell Ink)
When Asta's nephew is taken by slavers, she pledges to her brother that she will find him, or die trying. Her search takes her from the fading islands of the Scattering, a nation in thrall to a powerful enemy, to the port city of Abonnae. There she finds a people dominated by a sinister cult, thirsty for blood to feed their hungry god. Haunted by the spirit of her brother, forced into an uncertain alliance with a pair of assassins, Asta faces a deadly choice – save the people of two nations, or save her brother's only son.
About Joanne Hall:
Joanne Hall is the same age as Star Wars, which explains a lot…. She lives in Bristol, England with her partner. She enjoys reading, writing, listening to music, playing console games, watching movies, eating chocolate and failing to exercise.
A full-time author since 2003, Joanne's "New Kingdom" fantasy trilogy was published by Epress Online, and was a finalist in both the PLUTO and EPPIE awards. Her short stories have appeared in many publications, both print and online, including Afterburn SF, Quantum Muse, and The Harrow.
She has had short stories published in several anthologies, including "Pirates of the Cumberland Basin" in Future Bristol, and "Corpse Flight" in Dark Spires. Her short story collection, "The Feline Queen" was published by Wolfsinger Publications. Her fourth novel, "The Art of Forgetting : Rider", was published by Kristell Ink in June 2013, with its sequel, "Nomad" following in July 2014. "Rider" has been longlisted for the 2014 Tiptree Award.