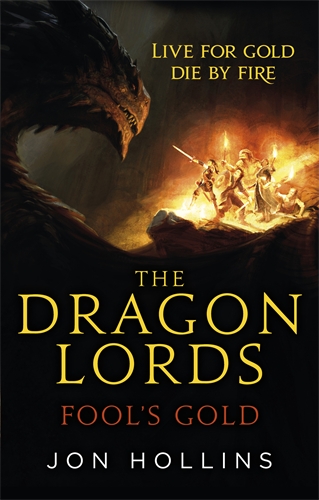 Jon Hollins, Fool's Gold
The Dragon Lords #1 (Orbit)
"YOU'RE NOT PROPOSING WE STEAL FROM A DRAGON?"
It's not easy to live in a world ruled by dragons. The taxes are high and their control is complete. But for one group of bold adventurers, it's time to band together and steal back some of that wealth.
No one ever said they were smart.
Ocean's Eleven meets The Hobbit – Jon Hollins' debut combines non-stop action, death-defying adventure and a never-before-assembled cast of wisecracking misfits. It is a worthy addition to every fantasy lover's horde.
About Jon Hollins:

Jon Hollins is a pseudonym for urban fantasy author Jonathan Wood whose debut novel (No Hero) was described by Publishers Weekly as a funny, dark, rip-roaring adventure with a lot of heart, highly recommended for urban fantasy and light science fiction readers alike. Barnesandnoble.com listed it has one of the 20 best paranormal fantasies of the past decade, and Charlaine Harris, author of the Sookie Stackhouse novels described it as, so funny I laughed out loud. His short fiction has appeared in Weird Tales, Chizine, and Beneath Ceaseless Skies, as well as anthologies such as The Book of Cthulhu 2 and The Best of Beneath Ceaseless Skies, Year One. The Dragon Lords: Fool's Gold is his first fantasy novel.