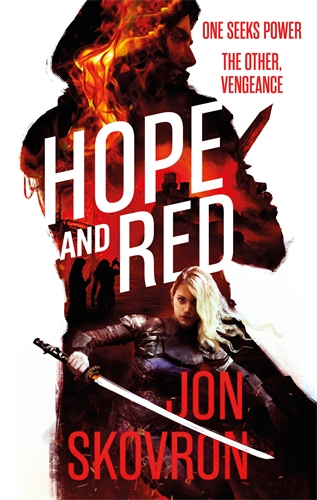 Jon Skovron, Hope and Red
Empire of Storms #1 (Orbit)

IN A FRACTURING EMPIRE SPREAD ACROSS SAVAGE SEAS, TWO PEOPLE FIND A COMMON CAUSE.
HOPE, the lone survivor of a village massacred by the emperor's forces, is secretly trained as a warrior and instrument of vengeance.
RED, an orphan adopted by a notorious matriarch of the criminal underworld, learns to be an expert thief and con artist.
Together they will take down an empire.
About Jon Skovron:
Jon Skovron is the author of several Young Adult novels, including Misfit, Man Made Boy and This Broken Wondrous World. His first adult fantasy series, The Empire of Storms, began last June with the release of Hope and Red, published by Orbit Books. The Barnes and Noble SF&F blog said "Skovron's briskly-paced story doesn't skimp on the world-building—and thank goodness, because it's quite a world", and author Sam Sykes described it as "Furious where it needs to be, deceptively tender where it can get away with it, adventurous all around." The second book in the series, Bane and Shadow, will be out February 2017.
Jon's short stories have appeared in publications like ChiZine and Baen's Universe, and more recently in anthologies such as Summer Days and Summer Nights, edited by Stephanie Perkins, and GRIM from Harlequin Teen. He lives with his two sons and two cats just outside Washington DC, where he hosts a regular writing discussion series at the Arlington Public Library. His website is jonskovron.com.