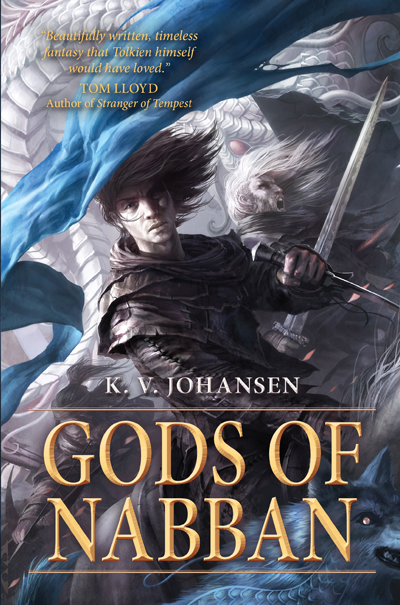 KV Johansen, Gods of Nabban
Marakand #3 (Pyr)
The fugitive slave Ghu has ended the assassin Ahjvar's century-long possession by a murderous and hungry ghost, but at great cost. Heir of the dying gods of Nabban, he is drawn back to the empire he fled as a boy, journeying east on the caravan road with Ahjvar at his side.
Haunted by memory of those he has slain, Ahjvar is ill in mind and body, a danger to those about him and to the man who loves him most of all. Tortured by violent nightmares, he believes himself mad. Only his determination not to leave Ghu to face his fate alone keeps Ahjvar from asking to be freed at last from his unnatural life.
Innocent and madman, god and assassin–two men to seize an empire from the tyrannical descendants of the devil Yeh-Lin. But in war-torn Nabban, enemies of gods and humans stir in the shadows. Yeh-Lin herself meddles with the heir of her enemies and his soul-shattered companion, as the fate of the empire rests on their shoulders.
About KV Johansen:
K. V. Johansen was born in Kingston, Ontario, Canada, where she developed her lifelong fascination with fantasy literature after reading The Lord of the Rings at the age of eight. Her interest in the history and languages of the Middle Ages led her to take a Master's Degree in Medieval Studies at the Centre for Medieval Studies at the University of Toronto, and a second M.A. in English Literature at McMaster University, where she wrote her thesis on Layamon's Brut, an Early Middle English epic poem. While spending most of her time writing, she retains her interest in medieval history and languages and is a member of the Tolkien Society and the Early English Text Society, as well as the SFWA and the Writers' Union of Canada. Her previous works for adults include the Sunburst-nominated Blackdog and the short story collection The Storyteller. She is also the author of two works on the history of children's fantasy literature and a number of books for children and teens, including the award-winning Warlocks of Talverdin and Torrie series. Various of her books have been translated into French, Macedonian, and Danish. Visit her online at www.kvj.ca.