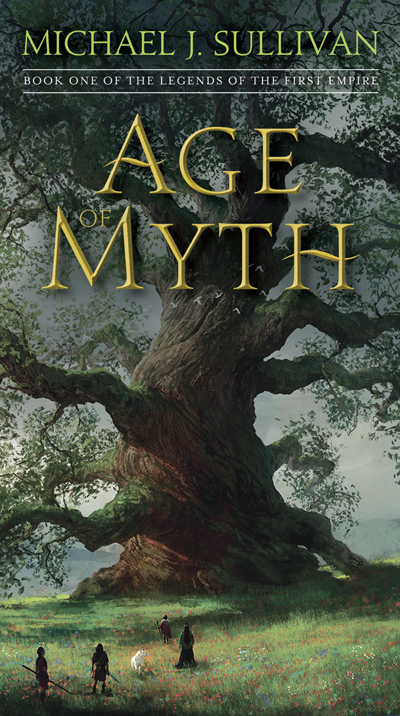 Michael J. Sullivan, Age of Myth
The Legends of the First Empire #1 (Del Rey)
Since time immemorial, humans have worshipped the gods they call Fhrey, truly a race apart: invincible in battle, masters of magic, and seemingly immortal. But when a god falls to a human blade, the balance of power between humans and those they thought were gods changes forever.
Now only a few stand between humankind and annihilation: Raithe, reluctant to embrace his destiny as the God Killer; Suri, a young seer burdened by signs of impending doom; and Persephone, who must overcome personal tragedy to lead her people. The Age of Myth is over. The time of rebellion has begun.
About Michael J. Sullivan:

After finding a manual typewriter in the basement of a friend's house, Michael J. Sullivan inserted a blank piece of paper and typed: It was a dark and stormy night and a shot rang out. He was just eight years old at the time, so we'll forgive the use of that overused opening. But the desire to fill the blank page and see what doors the typewriter keys would unlock wouldn't let him go. For ten years Michael developed his craft by studying authors such as Stephen King, Ernest Hemingway, and John Steinbeck…just to name a few. During that time he wrote twelve novels, and after finding no traction in publishing, he quit and vowed never to write creatively again.
Michael discovered that never is a very long time, and he ended his hiatus from writing after a decade. The itch returned when he decided to create a series of books for his then thirteen-year-old daughter, who was struggling in school due to dyslexia.
Michael is one of the few authors who has successfully published through all three routes: small press, self, and big five. He has been named to io9's Most Successful Self-Published Sci-Fi. He has sold more than 425,000 copies, been translated to 15 languages, and has had books appear on more than 65 "best of" or "most anticipated" lists.