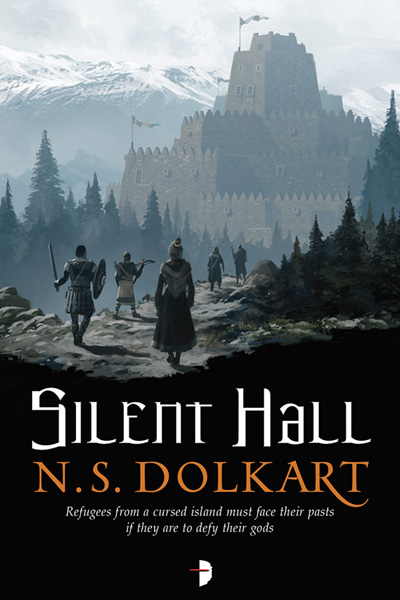 NS Dolkart, Silent Hall
Godserfs #1 (Angry Robot)
Five bedraggled refugees and a sinister wizard awaken a dragon and defy the gods. After their homeland is struck with a deadly plague, five refugees cross the continent searching for answers. Instead they find Psander, a wizard whose fortress is invisible to the gods, and who is willing to sacrifice anything – and anyone – to keep the knowledge of the wizards safe. With Psander as their patron, the refugees cross the mountains, brave the territory of their sworn enemies, confront a hostile ocean and even traverse the world of the fairies in search of magic powerful enough to save themselves – and Psander's library – from the wrath of the gods. All they need to do is to rescue an imprisoned dragon and unleash a primordial monster upon the world. How hard could it be?
About NS Dolkart:
"I'm a writer of fantasy, represented by Evan Gregory of the Ethan Ellenberg Literary Agency.  I like to write, sing, dance, cook, and eat.
I have written two novels so far, and am currently working on the sequel to the second. My first novel, The Kingmakers, was begun while I was still in college. It has yet to be published.
My second novel, Silent Hall, came out in June of 2016 from Angry Robot Books. You can already buy it from your favorite independent bookstore! (Or, yes, from Amazon)"