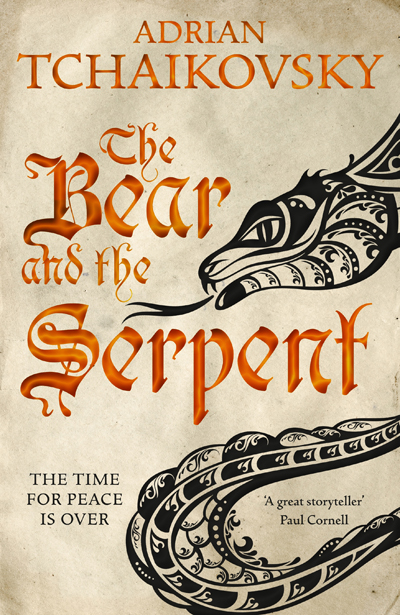 The Bear and the Serpent, Adrian Tchaikovsky
Book 2 of Echoes of the Fall (Pan MacMillan)
As the south is in turmoil, an old terror emerges in the north…
Maniye, child of both Wolf and Tiger clans, has been named Champion of her people. But they're unsure if she's an asset – or a threat. To buy time, she joins Prince Tecuman's warband of outcasts and heads south, to help him gain his crown. She wants to discover her true place in the world, but instead heads into the jaws of a fierce new conflict.
Civil war threatens as Tecuman and his twin sister battle for the throne, for only one can rule. Yet whoever triumphs will carry a heavy burden, as a great doom has been foreseen that will fall across their whole world. And soon Maniye finds herself at the heart of a political storm.
Danger is also shadowing her old home, where Lord Thunder and his bear clan are attempting to unite the northern tribes. But only extreme peril will end age-old rivalries. An adversary from the most ancient of times is preparing to strike, putting their lands and their very souls in danger. And neither north nor south will be spared the terror to come.
About Adrian Tchaikovsky:
Adrian Tchaikovsky was born in Woodhall Spa, Lincolnshire before heading off to Reading to study psychology and zoology. For reasons unclear even to himself he subsequently ended up in law and has worked as a legal executive in both Reading and Leeds, where he now lives. Married, he is a keen live role-player and occasional amateur actor, has trained in stage-fighting, and keeps no exotic or dangerous pets of any kind, possibly excepting his son.