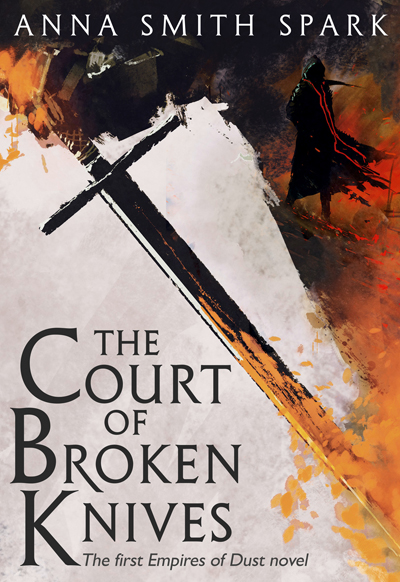 The Court of Broken Knives, Anna Smith-Spark
Book 1 of The Empires of Dust (Harper Voyager)
They've finally looked at the graveyard of our Empire with open eyes. They're fools and madmen and like the art of war. And their children go hungry while we piss gold and jewels into the dust.
In the richest empire the world has ever known, the city of Sorlost has always stood, eternal and unconquered. But in a city of dreams governed by an imposturous Emperor, decadence has become the true ruler, and has blinded its inhabitants to their vulnerability. The empire is on the verge of invasion – and only one man can see it.
Haunted by dreams of the empire's demise, Orhan Emmereth has decided to act. On his orders, a company of soldiers cross the desert to reach the city. Once they enter the Palace, they have one mission: kill the Emperor, then all those who remain. Only from ashes can a new empire be built.
The company is a group of good, ordinary soldiers, for whom this is a mission like any other. But the strange boy Marith who walks among them is no ordinary soldier. Marching on Sorlost, Marith thinks he is running away from the past which haunts him. But in the Golden City, his destiny awaits him – beautiful, bloody, and more terrible than anyone could have foreseen.
About Anna Smith-Spark:
Anna Smith-Spark lives in London, UK. She loves grimdark and epic fantasy and historical military fiction. Anna has a BA in Classics, an MA in history and a PhD in English Literature. She has previously been published in Fortean Times and the poetry website www.greatworks.org. Previous jobs include petty bureaucrat, English teacher and fetish model.
Anna's favourite authors and key influences are R. Scott Bakker, Steve Erikson, M. John Harrison, Ursula Le Guin, Mary Stewart and Mary Renault. She spent several years as an obsessive D&D player.
You may know her by the heels of her shoes.