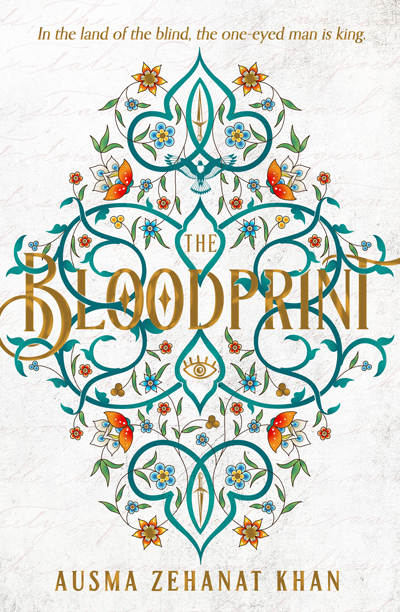 The Bloodprint, Ausma Zehanat Khan
Book 1 of The Khorasan Archives (Harper Voyager)
A dark power known as the Talisman has risen in the land. Born of ignorance and persecution, it is led by a man known only as the One-Eyed Preacher. A superstitious patriarchy, cruel and terrifying, the Talisman suppresses knowledge and subjugates women. And it is growing.
But there are those who seek to stop the oppressive spread of the Talisman. A resistance formed of the Companions of Hira – a group of rebels versed in the power of ancient scripture, a magic known as the Claim – believe they have discovered the key to destroying the One-Eyed Preacher and his fervid followers: The Bloodprint.
Finding this dangerous manuscript that the Talisman has tried to erase from the world promises to be their most dangerous undertaking yet: a perilous journey deep into Talisman territory which may prove to be their last.
About Ausma Zehanat Khan:

A frequent lecturer and commentator, Khan holds a Ph.D. in International Human Rights Law with a research specialization in military intervention and war crimes in the Balkans. She completed her LL.B. and LL.M. at the University of Ottawa, and her B.A. in English Literature & Sociology at the University of Toronto.
Formerly, she served as Editor in Chief of Muslim Girl magazine. The first magazine to address a target audience of young Muslim women, Muslim Girl re-shaped the conversation about Muslim women in North America. The magazine was the subject of two documentaries, and hundreds of national and international profiles and interviews, including CNN International, Current TV, and Al Jazeera "Everywoman".
Khan practiced immigration law in Toronto and has taught international human rights law at Northwestern University, as well as human rights and business law at York University. She is a long-time community activist and writer, and currently lives in Colorado with her husband.