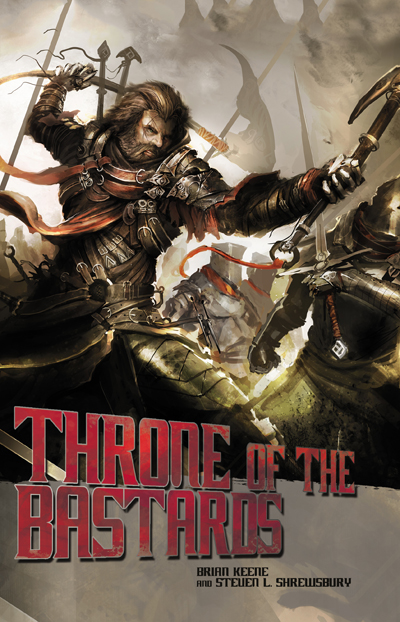 Throne of the Bastards, Brian Keene and Steven L Shrewsbury
The sequel to King of the Bastards (Apex Book Company)
Learning that his family is in danger, Rogan returns to his former kingdom, now under siege from foreign invaders and supernatural forces led by his bastard son. With time running out, the aging barbarian and his trusted companions, Javan and Akibeel, must forge an alliance of new friends and old foes, mustering an army to retake the kingdom. Surrounded by savages, soldiers, demons, and dark magic, it will take all of their cunning, skill, ruthlessness, and courage to survive the slaughter and determine once and for all who shall sit upon the Throne of the Bastards.
About Brian Keene:
Brian Keene is the Bram Stoker and Grand Master award-winning, bestselling author of over forty books, including Darkness on the Edge of Town, Take the Long Way Home, Urban Gothic, Castaways, Kill Whitey, Dark Hollow, Dead Sea, and The Rising trilogy. He's also written comic books such as The Last Zombie, Doom Patrol, and Dead of Night: Devil Slayer. His work has been translated into many foreign languages. Several of his novels and stories have been developed for film, including Ghoul and The Ties That Bind. In addition to writing, Keene also oversees Maelstrom, his own small press publishing imprint specializing in collectible limited editions via Thunderstorm Books. Keene's work has been praised in such diverse places as the New York Times, The History Channel, The Howard Stern Show, CNN.com, Publisher's Weekly, Media Bistro, Fangoria magazine, and Rue Morgue magazine.  Keene lives in Pennsylvania.
About Steven L Shrewsbury:
Steven L. Shrewsbury lives, works, and writes one day at a time. Over 365 of his short stories have been published in print or digital media since the late 80s along with over 100 of his poems. He writes in the realms of horror and sword & sorcery. His novels include Within, Philistine, Overkill, Hell Billy, Blood & Steel, Thrall, Stronger than Death, Hawg, Thoroughbred, Tormentor, Godforsaken, and Born of Swords.