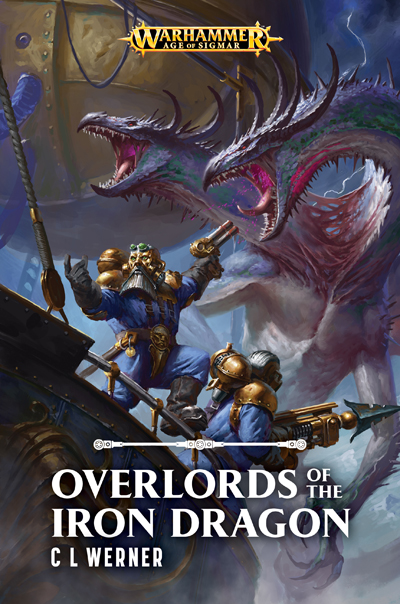 Overlords of the Iron Dragon, CL Werner
Warhammer: Age of Sigmar (Black Library)
A down-on-his luck Duardin captain has a change in fortune when he finds an untapped source of aether-gold, but is the danger that awaits him worth the prize?
Far above the highest mountain peaks, a new power has arisen. The duardin have developed new technology and weapons of war, and now they sail the skies in their amazing airships, seeking wealth and plunder. Brokrin Ullissonn, captain of the airship Ang Drak, has a reputation for bad luck. Unless his fortune turns, and soon, he will lose his ship and his livelihood. When he and his crew discover the location of a source of aether-gold of unparalleled quality, the temptation is too strong to resist, for no matter what dangers present themselves, the duardin desire wealth beyond all. But when Brokrinn realises what the true cost of the aether-gold will be, is it too late for him to save himself, his crew, and his ship?
About CL Werner:
C L Werner is one of Black Library's most beloved fantasy authors, author of countless novels in the Old World and the Mortal Realms, including the Thanquol trilogy, The Red Duke, Lord of Undeath and the Time of Legends trilogy The Black Plague. He has also written the Warhmmer 40,000 novels The Siege of Castellax and Cult of the Warmason as well as more than thirty short stories.