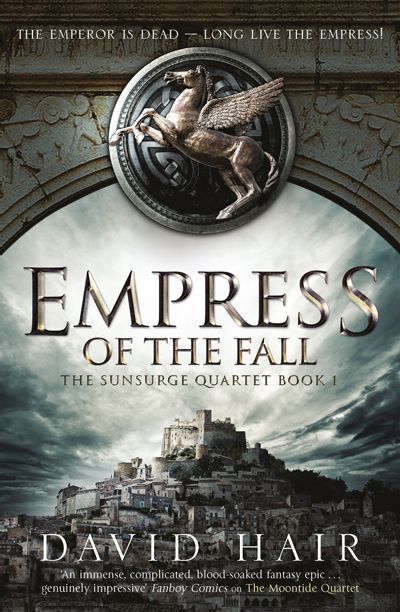 Empress of the Fall, David Hair
Book 1 of The Sunsurge Quintet (Jo Fletcher Books)

The Emperor is dead – long live the Empress!
Emperor Constant is dead and his rivals are scrabbling for power – but any misstep could plunge the land, already devastated by the shocking outcome of the Third Crusade, into a calamitous civil war.
The Imperial throne is not the only one in jeopardy. Two brothers, imprisoned veterans of the Crusades, finally return home to find their father's kingdom being plundered – but the price of regaining their birthright will have far-reaching implications for the entire empire.
In the East, Sultan Salim, peacemaker and visionary ruler, faces his greatest challenge as his people demand an invasion of the West in retribution for the Rondian Crusades
And lurking in the darkness, orchestrating both the power struggles and the inevitable conflicts, is a shadowy group threatening to destroy civilisation itself.
Once more, Urte stands on the brink of cataclysm.

About David Hair:
David Hair is the author of both mass market and YA fantasy novels:
• The Moontide Quartet is a 4-book fantasy series set on the imaginary world of Urte, and is an East meets West novel of magic and war. It's been released in UK and US editions, as well as translated into German, Dutch, Turkish and Bulgarian.
• The forthcoming Sunsurge Quartet is a sequel to the Moontide Quartet, but can be read as a self-contained series.
• The Aotearoa Series is a 6-book YA fantasy series, set in his homeland of New Zealand, and interweaves history and mythology with urban fantasy.
• The Return of Ravana series is a 4-book YA fantasy series set in India, and is based upon the Indian epic, The Ramayana. It is currently being re-issued with revised text, and under different titles.