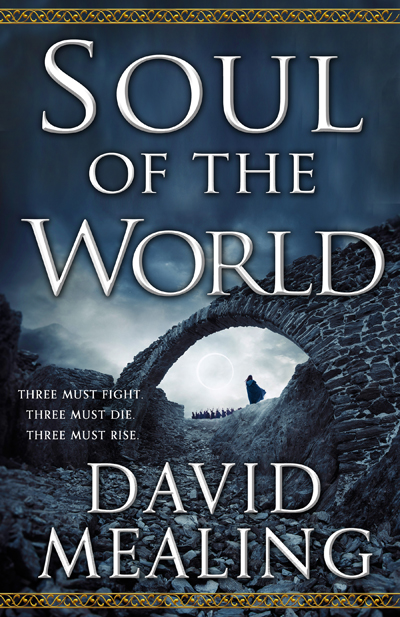 Soul of the World, David Mealing
Book 1 of The Ascension Cycle (Orbit)
As the fires of revolution rage…
The city of New Sarresant simmers with discontent. Civil war looms as the Crown's authority is challenged by revolutionaries. Sarine, a young street artist, only cares about surviving – and staying one step ahead of the law. Yet her hidden powers will draw the attention of both royalists and rebels, and soon she will have to decide whose side she is really on.
And chaos spread across a continent…
On the battlefields, Colonel Erris d'Arrent must lead the armies of New Sarresant against its rivals in the south. Yet the enemy seems to know her plans before she even makes them. Erris needs to find out how, but the truth will be far darker than she could have imagined.
Three heroes must rise or the world will fall
In the forests, Arak'Jur wields an ancient magic that keeps his people safe. Yet the prophecies that have always guided his people have become corrupted, and war between the tribes seems inevitable – unless he can find a way to prevent bloodshed.
About David Mealing:
David Mealing grew up adoring all things fantasy. He studied philosophy, politics and economics at the University of Oxford, where he taught himself to write by building worlds and stories for pen and paper RPGs. He enjoys board games and card games of all sorts, once spent a summer in Paris learning and subsequently forgetting how to speak French and gave serious thought to becoming a professional bass player before deciding epic fantasy novelist was the wiser choice. He lives in Washington State with his wife and three daughters, and aspires to one day own a ranch in the middle of nowhere.