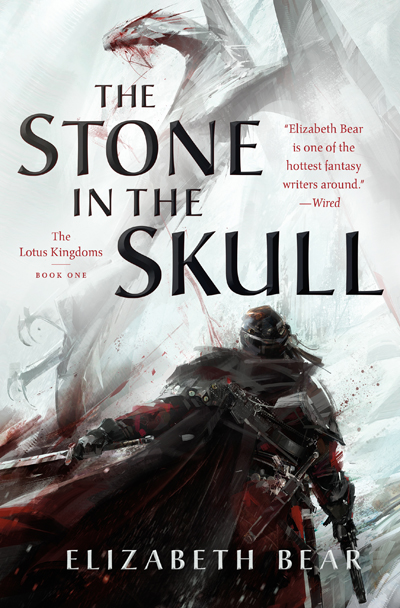 The Stone in the Skull, Elizabeth Bear
Book 1 of the Lotus Kingdoms (Tor)
The Stone in the Skull takes readers over the dangerous mountain passes of the Steles of the Sky and south into the Lotus Kingdoms.
The Gage is a brass automaton created by a wizard of Messaline around the core of a human being. His wizard is long dead, and he works as a mercenary. He is carrying a message from the most powerful sorcerer of Messaline to the Rajni of the Lotus Kingdom. With him is The Dead Man, a bitter survivor of the body guard of the deposed Uthman Caliphate, protecting the message and the Gage. They are friends, of a peculiar sort.  They are walking into a dynastic war between the rulers of the shattered bits of a once great Empire.
About Elizabeth Bear:
Elizabeth Bear is an American author who works primarily in speculative fiction genres. She won the 2005 John W. Campbell Award for Best New Writer, the 2008 Hugo Award for Best Short Story for "Tideline", and the 2009 Hugo Award for Best Novelette for "Shoggoths in Bloom". She is one of only five writers who have gone on to win multiple Hugo Awards for fiction after winning the John W. Campbell Award for Best New Writer (the others being C. J. Cherryh, Orson Scott Card, Spider Robinson, and Ted Chiang).