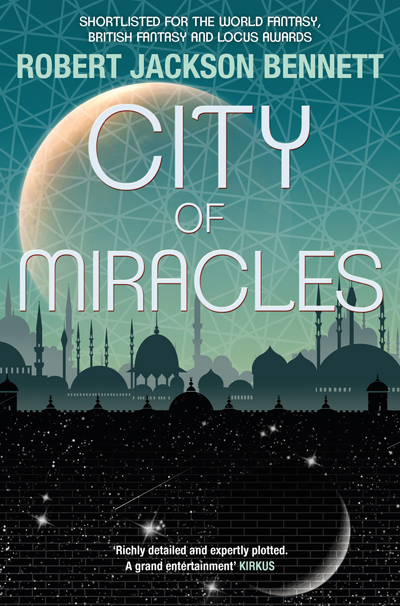 City of Miracles, Robert Jackson Bennett
Book 3 of the Divine Cities (Jo Fletcher Books)
Sigrud je Harkvaldsson is back, and this time he's out for vengeance.
Shara Komayd, once Prime Minister of Saypur, has been assassinated. News travels fast and far, even to a remote logging town somewhere northwest of Bulikov, where the silent Dreyling worker 'Bjorn' picks up the newspaper and walks out. He is shocked and grieved and furious; he's been waiting thirteen years for Shara, his closest friend, to tell him to come home. Now he has no one else in his life, and nothing to live for – except to find the people who did this.
Sigrud wasn't there for the death of his daughter, and he wasn't there when Shara was murdered. Now 'Bjorn' is dead and Sigrud is back. And he will find answers, for Shara, and for himself. He's made a promise . . .
About Robert Jackson Bennett:
Robert Jackson Bennett is a two-time award winner of the Shirley Jackson Award for Best Novel, an Edgar Award winner for Best Paperback Original, and is also the 2010 recipient of the Sydney J Bounds Award for Best Newcomer, and a Philip K Dick Award Citation of Excellence. City of Stairs was shortlisted for the Locus Award and the World Fantasy Award. City of Blades was a finalist for the 2015 World Fantasy, Locus, and British Fantasy Awards.