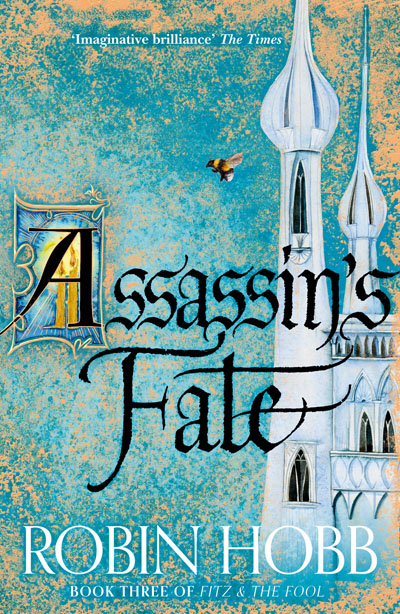 Assassin's Fate, Robin Hobb
Book 3 of Fitz and The Fool (Harper Voyager)
Prince FitzChivalry Farseer's daughter Bee was violently abducted from Withywoods by Servants of the Four in their search for the Unexpected Son, foretold to wield great power. With Fitz in pursuit, the Servants fled through a Skill-pillar, leaving no trace. It seems certain that they and their young hostage have perished in the Skill-river.
Clerres, where White Prophets were trained by the Servants to set the world on a better path, has been corrupted by greed. Fitz is determined to reach the city and take vengeance on the Four, not only for the loss of Bee but also for their torture of the Fool. Accompanied by FitzVigilant, son of the assassin Chade, Chade's protégé Spark and the stableboy Perseverance, Bee's only friend, their journey will take them from the Elderling city of Kelsingra, down the perilous Rain Wild River, and on to the Pirate Isles.
Their mission for revenge will become a voyage of discovery, as well as of reunions, transformations and heartrending shocks. Startling answers to old mysteries are revealed. What became of the liveships Paragon and Vivacia and their crews? What is the origin of the Others and their eerie beach? How are liveships and dragons connected?
But Fitz and his followers are not the only ones with a deadly grudge against the Four. An ancient wrong will bring them unlikely and dangerous allies in their quest. And if the corrupt society of Clerres is to be brought down, Fitz and the Fool will have to make a series of profound and fateful sacrifices.
About Robin Hobb:
Robin Hobb is a New York Times best-selling fantasy author. She is published in English in the US, UK and Australia, and her works have been widely translated. Her short stories have been finalists for both the Hugo and the Nebula awards, as well as winning the Asimov's Readers Award. Her best known series is The Farseer Trilogy (Assassin's Apprentice, Royal Assassin and Assassin's Quest.)
Robin Hobb was born in Oakland California, but grew up in Fairbanks, Alaska. She has spent her life mostly in the Pacific Nortwest region of the US, and currently resides in Tacoma, Washington State, with her husband Fred. They have four grown offspring, and six grandchildren.