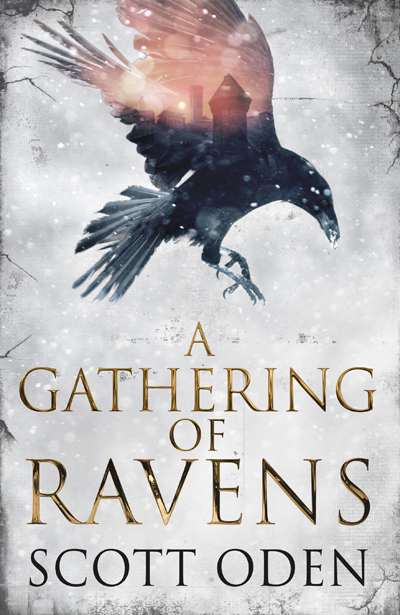 A Gathering of Ravens, Scott Oden
(Bantam Press)
To the Danes, he is skraelingr; to the English, he is orcnéas; to the Irish, he is fomoraig. He is Corpse-maker and Life-quencher, the Bringer of Night, the Son of the Wolf and Brother of the Serpent. He is Grimnir, and he is the last of his kind―the last in a long line of monsters who have plagued humanity since the Elder Days.
Drawn from his lair by a thirst for vengeance against the Dane who slew his brother, Grimnir emerges into a world that's changed. A new faith has arisen. The Old Ways are dying, and their followers retreating into the shadows; even still, Grimnir's vengeance cannot be denied.
Taking a young Christian hostage to be his guide, Grimnir embarks on a journey that takes him from the hinterlands of Denmark, where the wisdom of the ancient dwarves has given way to madness, to the war-torn heart of southern England, where the spirits of the land make violence on one another. And thence to the green shores of Ireland and the Viking stronghold of Dubhlinn, where his enemy awaits.
But, unless Grimnir can set aside his hatreds, his dream of retribution will come to nothing. For Dubhlinn is set to be the site of a reckoning―the Old Ways versus the New―and Grimnir, the last of his kind left to plague mankind, must choose: stand with the Christian King of Ireland and see his vengeance done or stand against him and see it slip away?
About Scott Oden:
Scott Oden is the author of four novels, two historical fiction (Men of Bronze and Memnon) and two fantasy with a strong historical bent (The Lion of Cairo and A Gathering of Ravens), a couple of short stories, and a few non-fiction articles and introductions (notably, the introduction to Del Rey's Robert E. Howard collection, Sword Woman and Other Historical Adventures). He has been an avid tabletop roleplaying gamer since 1979, beginning with Holmes-edition D&D. Scott was born in Columbus, Indiana, but was raised in rural North Alabama, near Huntsville. He currently splits his time between his home in Alabama, a Hobbit hole in Middle-earth, and some sketchy tavern in the Hyborian Age.