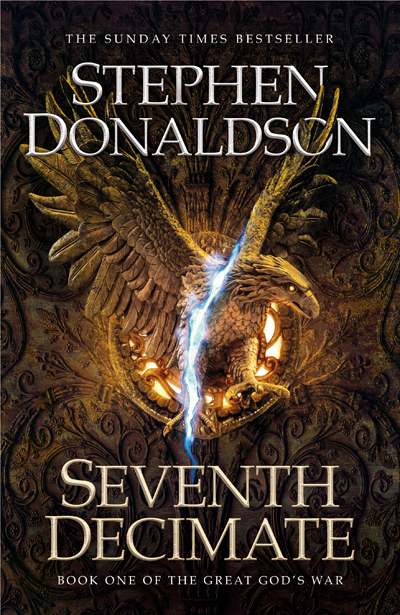 Seventh Decimate, Stephen Donaldson
The Great God's War Book 1 (Gollancz)
The war between Amika and Belleger has raged for generations. Its roots lie in the distant past, beyond memory. Sorcerers from both sides rain destruction down on the battlefield, wielding the six deadly Decimates of fire, earth, wind, water, lightning, and pestilence.
Prince Bifalt hopes that Belleger's new weapons technology, the rifle, will provide a decisive advantage. But when Belleger's sorcerers are mysteriously deprived of their magical abilities, leaving them unable to defend against Amika, he must set aside his own deep hatred of sorcery and work to solve this new enigma.
Grasping at any chance to save his beloved homeland, Prince Bifalt of Belleger sets out on a hazardous journey across the unmapped wastelands to the east. With Elgart, his last comrade, Bifalt pursues the long-hidden trail of the one object that might be able to turn the tide of the endless war – a book entitled The Seventh Decimate.
The events that unfold force Prince Bifalt to weigh his stubbornness, his patriotism, and his hatred for sorcerers against his sense of loyalty and of what he knows to be right. And as he learns, Amika and Belleger may simply be pawns within an even larger struggle…
About Stephen Donaldson:
Born in 1947 in Cleveland, Ohio, Stephen R. Donaldson lived in India (where his father was a medical missionary) until 1963. He graduated from the College of Wooster (Ohio) in 1968, served two years as a conscientious objector during the Vietnam War, doing hospital work in Akron, then attended Kent State University, where he received his M.A. in English in 1971.
After dropping out of his Ph.D. program and moving to New Jersey in order to write fiction, Donaldson made his publishing debut with the first "Covenant" trilogy in 1977. That enabled him to move to a healthier climate. He now lives in New Mexico.
The novels for which he is best known have received a number of awards. However, the achievements of which he is most proud are the ones that seemed the most unlikely. In 1994 he gained a black belt in Shotokan karate from Sensei Mike Heister and Anshin Personal Defense; and in 2009 he was awarded a Doctor of Literature (Litt.D) degree from the School of Divinity of the University of St. Andrews in Scotland.
After spending seven years on his five book Gap sequence of science fiction novels, Donaldson published a second collection of short stories and a fourth mystery novel. He then put 12 years into writing The Last Chronicles of Thomas Covenant.  His most recent book since completing the "Covenant" epic is The King's Justice: Two Novellas.  And he keeps on writing.