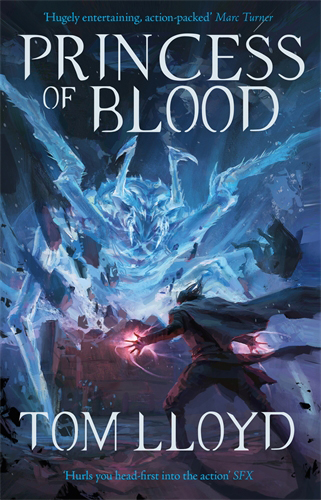 Princess of Blood, Tom Lloyd
Book Two of The God Fragments (Gollancz)

There's a new card in the mercenary deck – one Lynx isn't sure if he's happy to see or not. The assassin Toil now wears the Princess of Blood on her jacket and even Lynx would admit she's a woman cloaked in chaos and bloodshed.
Their new mission is to escort a dignitary to the pious and ancient city of Jarrazir – beneath which lies a fabled labyrinth. Having barely survived their last underground adventure the mercenaries aren't keen for another, but Toil has other plans.
Under threat of siege and horrors rising from the labyrinth, even the Mercenary Deck may have to accept that Jarrazir's prohibition laws aren't their biggest problem.
About Tom Lloyd:
Tom Lloyd was born in 1979 in Berkshire. After a degree in International Relations he went straight into publishing where he still works. He never received the memo about suitable jobs for writers and consequently has never been a kitchen-hand, hospital porter, pigeon hunter, or secret agent. He lives in Oxford, isn't one of those authors who gives a damn about the history of the font used in his books and only believes in forms of exercise that allow him to hit something.