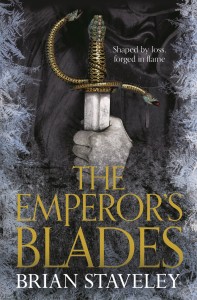 "I taught history for about a decade—ancient world, Mediterranean, and medieval European—and many, many of the scenes or situations in The Emperor's Blades have their roots in real history. There are certain types of conflict that are immortal, that you see everywhere you have large imperial states: conflict between secular and religious powers (witness the Buddhist purges of the 9th century, or Diocletian's persecution of Roman Christians); strife born from questions of succession; conflict between colliding races (the arrival of the Arya in the Indian subcontinent, for instance); never-ending cycles of oppression and rebellion; the specter of slavery in all its abominable forms… The list goes on, and furnishes a fantasy writer with plenty of raw materials."
bstaveley.wordpress.com
The Emperor's Blades
The circle is closing. The stakes are high. And old truths will live again. The Emperor has been murdered, leaving the Annurian Empire in turmoil.  Now his progeny must prepare to unmask a conspiracy. His son Valyn, training for the empire's deadliest fighting force, hears the news an ocean away. And after several 'accidents' and a dying soldier's warning, he realizes his life is also in danger. Yet before Valyn can act, he must survive the mercenaries' brutal final initiation.
The Emperor's daughter, Minister Adare, hunts her father's murderer in the capital. Court politics can be fatal, but she needs justice. Lastly Kaden, heir to an empire, studies in a remote monastery. Here, the Blank God's disciples teach their harsh ways – which Kaden must master to unlock ancient powers. But when an imperial delegation arrives, has he learnt enough to keep him alive, as long–hidden powers make their move?
… and to give you a few insights into this year's nominated authors, we've asked them all a few questions…
Tell us one of your early favourite fantasy novels?
The Wishsong of Shannara, for one reason: Garet Jax, the baddest-ass weapons-master that my ten-year-old mind could conceive. Add to his ineffable awesomeness a fight with a creature that thrives on pain? That just seemed untoppable.
What fantasy novel was a real game changer, shifting the way you thought about epic fiction?
A Wizard of Earthsea and The Tombs of Atuan – and not just for the quiet beauty of Le Guin's prose style. These two slim novels were the first to show me that "epic" and "really damn big" are not synonyms. Her ability to evoke entire histories and worlds through a series of intimate scenes, her feel for the interior psychic and emotional struggles of her characters, showed me that, as much fun as it is to read about huge battles, all the swords and axes don't mean much without the inner, invisible wars that take place inside the characters' minds.
What do you like to see on fantasy novel cover art? What puts you off?
I used to throw away any cover with a face on it. I like to see the characters the way I see them, not the way the artist sees them. The irony, of course, is that the US cover for The Emperor's Blades has not one, but three faces… and I totally dig it. Go figure.
What classic fantasy themes always get your interest on the cover or in the write up of a new book? Any pet hates?
I like it when an ancient evil rises again; not in real life, obviously – I've got enough to handle with the ice on my roof this winter – but I dig ancient evil in books. As for things I can't stand? Anyone plucky.
What's the next big thing you'd like to see in epic fantasy fiction?
Less music; more cartography. I'd love a book with a couple dozen maps, all of which are crucial to the plot.
After more than a decade teaching history, religion, and philosophy, Brian decided to write books. He now lives on a steep dirt road in the hills of southern Vermont, where he divides his time between fathering, writing, husbanding, splitting wood, skiing, and exploring old trails. Stiff knees permitting, Brian also still competes in multi–day adventure races. While he hopes that participating in these grueling events will give him insight into the physical and psychological suffering faced by his characters, it's possible that he's just too dumb to quit. To the dismay of his family, he also sometimes tries to play the banjo.