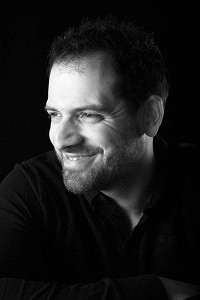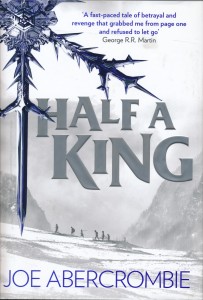 "Fantasy is about myth, magic, monsters, mystery and wonder. It's a window into other worlds, other times, other realities. Places that have never existed and could never exist, except in the minds of writer and reader.
But fantasy is also a window into our world. A way of talking about us. About the modern world. About the things that are universal to humanity. Love and hate, war and peace, truth and lies, courage and cowardice, victory and defeat, right and wrong and all the grey space in between. About politics, parenthood, money, violence, progress, belief, betrayal, ambition and triumph. About what it means to be a hero. About whether it is possible to be a hero.
And, of course, fantasy wouldn't be much good if it wasn't about fascinating, funny, strange, honest, conflicted people getting themselves into terrible trouble. And getting out again. If they're lucky…"
joeabercrombie.com
@LordGrimdark
Half a King
Prince Yarvi has vowed to regain a throne he never wanted. But first he must survive cruelty, chains and the bitter waters of the Shattered Sea itself. And he must do it all with only one good hand.
Born a weakling in the eyes of his father, Yarvi is alone in a world where a strong arm and a cold heart rule. He cannot grip a shield or swing an axe, so he must sharpen his mind to a deadly edge.
Gathering a strange fellowship of the outcast and the lost, he finds they can do more to help him become the man he needs to be than any court of nobles could.
But even with loyal friends at his side, Yarvi's path may end as it began – in twists, and traps and tragedy…
… and to give you a few insights into this year's nominated authors, we've asked them all a few questions…
Tell us one of your early favourite fantasy novels?
Ursula le Guin's Wizard of Earthsea.
 What fantasy novel was a real game changer, shifting the way you thought about epic fiction?
I'm sure this will shock no one, but it has to be A Game of Thrones, for me. I read it at a time when I'd more or less stopped reading epic fantasy, and it really changed my mind about what you could do within the form.
 What do you like to see on fantasy novel cover art? What puts you off?
I personally like a treatment that's bold, arresting, and doesn't look like everything else. I tend to be put off by what looks like everything else…
What classic fantasy themes always get your interest on the cover or in the write up of a new book? Any pet hates?
I don't think there's anything in terms of broad content that would put me off.  For me, execution is everything.  God is in the details, and great writing, strong characters and new twists can make even the most familiar material exciting again.  Especially the most familiar material, maybe.
What's the next big thing you'd like to see in epic fantasy fiction?
Trends come and go, but vivid, exciting, surprising, believable, funny, flawed and fascinating characters never go out of fashion…
Joe Abercrombie was born in Lancaster on the last day of 1974, the son of an English teacher and a sociologist. He spent much of his youth in imaginary worlds, and left school with a good idea of how to make stuff up. He moved to the big city, learned to brew tea, and ended up as a TV editor, working on documentaries, events and concerts for bands from Iron Maiden to Coldplay. But in the darkness of the night he was still making stuff up, and his first book, The Blade Itself, was published in 2006. He now lives in Bath with his wife Lou and their three children Grace, Eve and Teddy and makes stuff up full-time.